There are some plants can be used as herbs (i.e. their fresh or dried leaves and stems) that also produce edible and tasty spices (i.e. their seeds). 
In some cases, the dried seeds can be used instead of the herb form of the plant. In other cases, the seed form is very different from the fresh herb. 
Here are my favourite plants that produce both herbs and spices and how best to use them.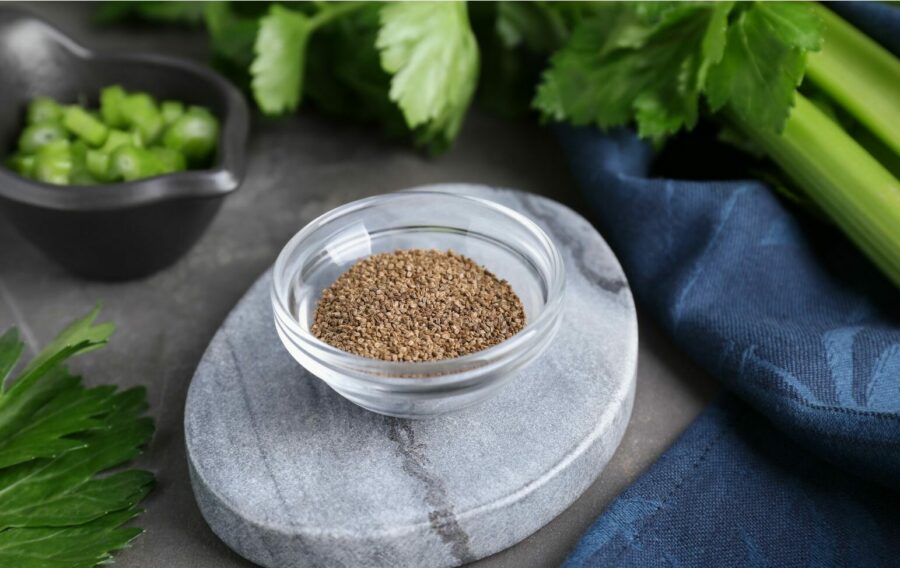 Celery is a biennial plant meaning that it only grows for two years and on its second year, it disperses a vast amount of seeds. Celery and its seeds taste very similar to each other. In many cuisines celery is considered an essential element for soups and stews providing both flavour and crunch. Celery seeds offer the same celery taste in a tiny punch and should be used sparingly.
If you're adding celery to a soup stock, include the leaves!
Celery seed is delicious sprinkled onto breads before baking.
Check out my recipe for Celery Seed Potato salad, which used both celery and celery seeds.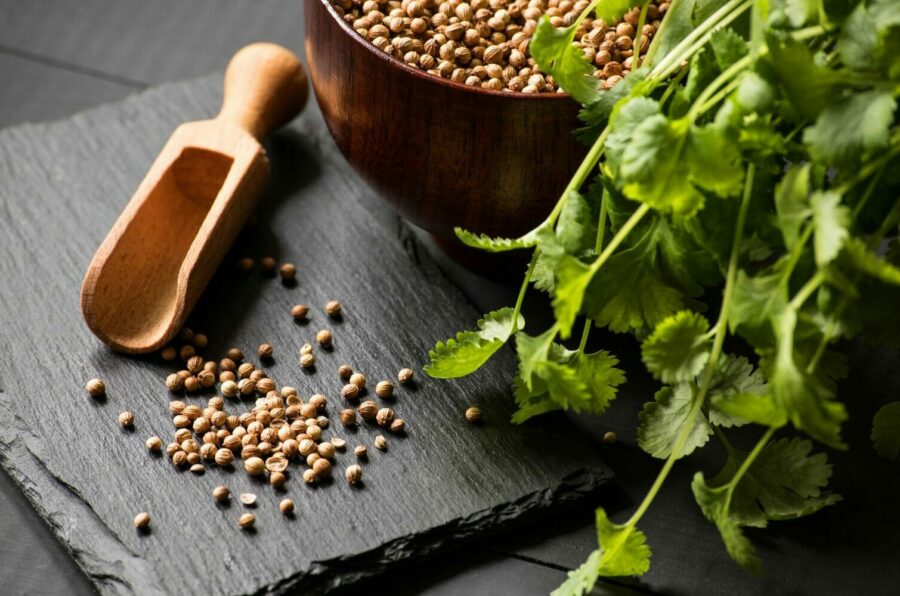 Cilantro is the leaves and stems of the coriander plant. It's one of the more divisive foods for people – people either love it or hate it. If you hate it because it tastes soapy to you, it all comes down to genetics. Some people have a variation in a group of olfactory receptor genes that allows them to strongly perceive the soapy-flavored components in cilantro.
Cilantro adds a bright, fresh taste to foods and tastes a little like parsley with citrus undertones.
The spice, coriander, is made up of the seeds of the coriander plant. This spice, which is used dried and ground up, has a lemon-y flavour that is different tasting than the mother plant. Coriander is popular in many Central American, Indian, and North African dishes.
Check out my recipe for Warm Chicken Salad that features both coriander and cilantro.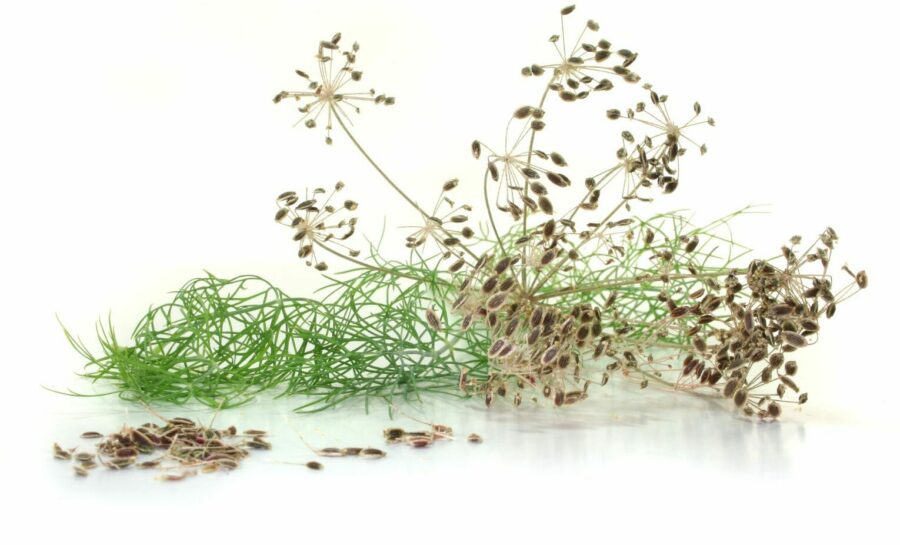 Dill weed is an easy-to-grow, self-seeding plant. Dill weed can be used fresh, dried, or frozen and is a natural flavour pairing with any fish or seafood, pickles, potatoes and even eggs. 
Dill seeds taste like the dill weed plant but, just as with celery, add a big pop of flavour in a tiny package so should be used sparingly. Use the seeds wherever you'd used dill weed. Dill seeds are especially great in salad dressings (just add them to mayonnaise) and for pickling. They're also delicious sprinkled onto breads before baking. 
Check out my recipe for The Homarus – a grilled lobster sandwich that's elevated with both dill and celery. 
Here are some of my favourite recipes showcasing these versatile plants that give us both herbs and spices.
WARM CHICKEN SALAD WITH SESAME AND CORIANDER VINAIGRETTE
This recipe needs to be served warm to make the most of the wonderful sesame and coriander flavourings.  It's perfect as a simple starter or a light lunch dish.
Makes 4 servings 
Salad ingredients
1 head green lettuce (8 cups of mixed greens)
3 carrots, peeled and cut into small matchsticks
8 white mushrooms, sliced
8 slices bacon cooked and chopped
4 chicken breasts, boneless, skinless

Sesame and Coriander Vinaigrette
½ cup lemon juice
2 tbsp old fashioned ground mustard (or coarse ground Dijon mustard) 
1/3 cup sesame oil
1 tsp coriander seeds, crushed or ground
1 tbsp fresh cilantro leaves to garnish
Mix all the vinaigrette ingredients in a small bowl. Whisk together the mustard, lemon juice, and coriander.
Then, whisking constantly, slowly add the oil in a steady stream. Taste and adjust the seasoning if necessary. 
Place the chicken breasts in a shallow dish and pour half of the vinaigrette over the chicken breasts. Cover and refrigerate the chicken breasts overnight or for 8 hours. Store the remaining vinaigrette in the fridge as well. 
Grill the marinated chicken breasts until their internal temperature is a minimum of 74C (165F).  Once the breasts are cooked, let them rest for 5 minutes, then slice the breasts on the diagonal.
While the chicken grills, add the lettuce cut into bite size pieces, carrots, warm bacon, mushrooms, and remaining vinaigrette into a large bowl and toss to coat.
Divide the salad into 4 bowls and top with the grilled chicken.  Drizzle the remaining vinaigrette overtop and garnish with cilantro leaves.
From Branchville, New Jersey, Taste of Home field editor, Grace Yaskovic, shares this fresh-tasting potato salad seasoned with onion and celery seed. The mayonnaise dressing gets its sweetness from sugar and whipping cream, and its tang from mustard and sugar. 
TOTAL TIME: Prep: 10 min. Cook: 25 min. + chilling 
YIELD: 12 servings. 
Ingredients
6 medium red potatoes
4 hard boiled large eggs, diced
2 celery stalks, finely chopped
1 small onion, finely chopped
1 teaspoon salt 
1 teaspoon celery seed 
6 tablespoons sugar 
1/2 teaspoon cornstarch 
1/2 teaspoon ground mustard 
1/4 cup heavy whipping cream 
1 egg, beaten 
2 tablespoons white vinegar 
1/2 cup mayonnaise 
4-1/2 teaspoons butter 
Place the potatoes in pot and cover with water. Bring to a boil. Reduce the heat; cover and simmer for 20-25 minutes or until the potatoes are tender and pierce easily with a knife. Drain the potatoes and let them cool. 
When they are cool enough to handle, peel and cube the potatoes and place them in a large bowl. 
Add the hard-boiled eggs, celery, onion, salt, and celery seed. Set aside. 
In a small saucepan, combine the sugar, cornstarch, and mustard. Stir in the cream, beaten egg, and vinegar and blend until smooth. Cook and stir over medium heat until the mixture coats the back of a metal spoon. Cook and stir 1-2 minutes longer or until thickened. 
Remove the sauce from the heat and let it stand for 20 minutes. Whisk in the mayonnaise and butter and blend until smooth. Cool slightly. 
Pour the sauce over the potato mixture and mix well. Cover and refrigerate for at least 6 hours before serving.
THE HOMARUS LOBSTER SALAD WITH DILL AND CELERY
Makes 4 servings
1 ½ cup lobster meat, diced in ½" pieces
¼ cup mayonnaise
1 ½ tbsp lemon juice (from ½ lemon)
1 tsp lemon zest
¼ cup celery, finely diced (about ½ stalk of celery)
¼ cup green onions, finely chopped (about 1 green onion)
2 tsp dried parsley
1 tsp dried dillweed
1 tsp dried Italian seasoning (a mix of basil, oregano, thyme)
½ tsp salt
¼ tsp pepper
8 slices garlic toast bread.
Mix all the ingredients except the bread together in a bowl. Taste and season with more lemon juice, salt or pepper if needed.
Butter both sides of each slice of garlic toast bread. On a grill or frying pan over medium heat, brown the bread on each side.
Spoon the lobster mixture onto the toasted garlic bread and top with a second piece of bread. Cut the sandwich in half. Sprinkle with chopped fresh parsley.