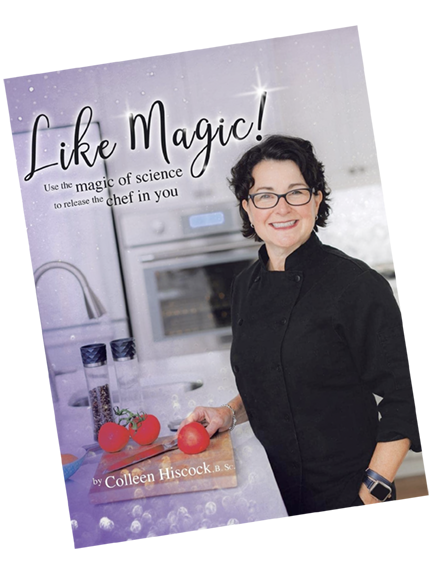 Use the magic of science
to release the chef in you!
Like Magic! gives you the wisdom experienced cooks have – but often can't really explain – to know when to follow the science of cooking and when you can add your own touch of magic. This cookbook explains how and why various common food combinations and cooking techniques work. That information gives you the power to flawlessly make your favourite dishes again and again and again.
Order Now From JavaJacks.ca
Colleen, I just had to write you to let you know how much I am admiring your beautiful cookbook. I have read every page and I have to say that I honestly think it is the most interesting, informative and enjoyable cookbook I have every owned. congratulations on a wonderful job, Keep up your great work. 🖐🖐🖐🖐
Colleen, I am just getting time now to tell you how much I am enjoying your cookbook. It was the nicest gift! Brilliant! I've already made your scones and a few of your salads. So interesting and informative. A beautiful book and a beautiful person!
Colleen. I made your burger recipe last night and I can honestly say it was awesome! I made the breakfast frittata this morning. What is the difference between whisking eggs and then adding milk vs beating the eggs and milk together? Loving the book.
Take a look inside "Like Magic!"